Pensacola Welcomes Pakistani Women's Advocate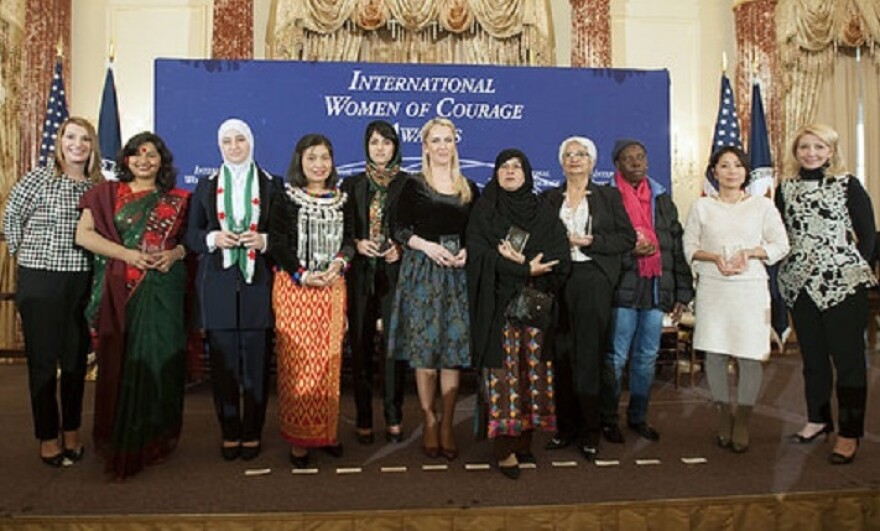 An internationally recognized women's rights advocate from Pakistan has spent the past few days in the Pensacola area and was the featured speaker Tuesday for the Third Annual International Women's Day Celebration.
Before coming to Pensacola, Tabassum Adnan was in Washington, D. C., one of ten women honored as recipients of the U.S. State Department 2015 International Women of Courage Award.
"We celebrate Brave and Heroic women who are changing their countries and this world," said Deputy Secretary of State Heather Higginbottom, who presided at the awards ceremony just this past Friday, March 6. Higginbottom described the "unspeakable horrors" Adnan faced, as she was born and raised in Swat Valley and forced to marry when she was just 13 years old.
"For 20 years she suffered physical and mental abuse at the hands of her husband. But, when Tabassum mustered the courage to divorce him, she lost everything: her children, her home and her family's money."
Coming out of this low point in her life, said Higginbottom, Adnan found the strength to establish the Khwendo Jirga or Sister's Council. The council is the first women-only jirga, which is an informal judicial body, aimed at stopping honor killings of women, acid attacks, and swara, which is the act of trading women to resolve disputes.
Adnan's jirga has become such a force for progress that she was recently invited to join the grand male jirga in prosecuting a case of child rape. It was the first time in Pashtun history that a woman was asked to participate.
Dressed in her country's traditional attire, Adnan spent a few days making the rounds in Pensacola. On Tuesday morning, she spent some time visiting the PACE Center for Girls in Pensacola.
Adnan discussed her work to promote the rights of women and girls and to protect them from mentally and physically abusive situations. She noted recent successes in saving five girls. In the case of a 13 year old being given into a forced marriage, Adnan made a last minute rescue during the wedding ceremony.
Proudly she said the girl was somewhere safe, still unmarried, and continuing her education.
During Adnan's visit at the center, she shared her life story, talked about the personal threats she faces as a result of her activism, and took questions a few questions from the girls.
For example, she was asked what her family thinks about what she's doing.
Initially they were against her for what violating centuries of tradition.
"But, slowly as people started coming to me bringing their cases and I started helping people, I was able to prove myself, where they got to understand that what I'm doing is right. It's the right thing."
Adnan says she's most proud at getting men to listen, although she still faces resistance. But, it's her message to women and girls the she hopes will resonate.
"The message I want to leave here is to tell people to raise their voice. Don't keep quiet. Don't just keep things inside yourself and then die this horrible death of not being able to make a stand. And, don't kill what's inside you, because you do have that power."
For the PACE Center, Social Studies teacher Dominique Grant facilitated the visit, noting that the opportunity to hear Adnan's story was particularly good for the young ladies at the PACE Center, who are facing their own challenges.
"For a lot of our girls, all they really know is the life they have here…and it puts into perspective how things can be and how the struggle for young ladies is all over the world, but it also lets them know they're not alone," Grant said.
Adnan's visit to Pensacola was highlighted by her presentation at the Third Annual International Women's Day Celebration, which was held Tuesday at the Governor Perry House. The event was presented by the Women's Civic Forum and Gulf Coast Citizen Diplomacy Council, which beat out 90 other local chapters in getting her to come here.
From Pensacola, she will travel to New York before heading back home to Pakistan next week.