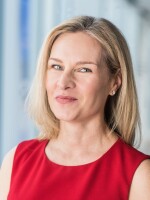 Mary Louise Kelly
Mary Louise Kelly is a co-host of All Things Considered, NPR's award-winning afternoon newsmagazine.
Previously, she spent a decade as national security correspondent for NPR News, and she's kept that focus in her role as anchor. That's meant taking All Things Considered to Russia, North Korea, and beyond (including live coverage from Helsinki, for the infamous Trump-Putin summit). Her past reporting has tracked the CIA and other spy agencies, terrorism, wars, and rising nuclear powers. Kelly's assignments have found her deep in interviews at the Khyber Pass, at mosques in Hamburg, and in grimy Belfast bars.
Kelly first launched NPR's intelligence beat in 2004. After one particularly tough trip to Baghdad — so tough she wrote an essay about it for Newsweek — she decided to try trading the spy beat for spy fiction. Her debut espionage novel, Anonymous Sources, was published by Simon and Schuster in 2013. It's a tale of journalists, spies, and Pakistan's nuclear security. Her second novel, The Bullet, followed in 2015.
Kelly's writing has appeared in the Wall Street Journal, The New York Times, The Washington Post, Politico, Washingtonian, The Atlantic, and other publications. She has lectured at Harvard and Stanford, and taught a course on national security and journalism at Georgetown University. In addition to her NPR work, Kelly serves as a contributing editor at The Atlantic, moderating newsmaker interviews at forums from Aspen to Abu Dhabi.
A Georgia native, Kelly's first job was pounding the streets as a political reporter at the Atlanta Journal-Constitution. In 1996, she made the leap to broadcasting, joining the team that launched BBC/Public Radio International's The World. The following year, Kelly moved to London to work as a producer for CNN and as a senior producer, host, and reporter for the BBC World Service.
Kelly graduated from Harvard University in 1993 with degrees in government, French language, and literature. Two years later, she completed a master's degree in European studies at Cambridge University in England.
Secretary of State Antony Blinken says the U.S. is planning "things that we have not done in the past" if Russia invades Ukraine. Where do things stand now, and what can the U.S. do at this point?

NPR's Mary Louise Kelly talks to actors Cynthia Nixon and Karen Pittman about their roles in HBO's Sex and the City reboot And Just Like That.

Harvard epidemiologist Michael Mina wants to increase availability of the at-home rapid tests the Biden administration is promoting. But he warns of a shortage without market competition.

After thousands of entries, the Tiny Desk Contest judges have landed on this year's winner.

NPR's Mary Louise Kelly speaks with the Ishaan Tharoor of The Washington Post and Charles Kupchan with the Council on Foreign Relations about the political ramifications of the fall of Afghanistan.

Over the years, Mitchell Garabedian has represented hundreds of survivors of clergy sexual abuse. His latest is a civil case against former U.S. Cardinal Theodore McCarrick.

At 10 years old, Tanitoluwa Adewumi just became one of the youngest chess masters in the United States — and he's not done yet. He says he hopes to become the world's youngest grandmaster.

Shaharzad Akbar of the Afghanistan Independent Human Rights Commission says the viciousness of killing schoolgirls was especially devastating. She wants women present in peace talks.

Unless people are packed together, "there really just is not much spread happening outdoors," Dr. Ashish Jha of Brown University's School of Public Health says.

Colleges around the country faced an admissions season marked by pandemic-era challenges: dropped testing requirements, remote learning, disrupted extracurriculars and record applicant pools.