Spring Football Practice Begins At UWF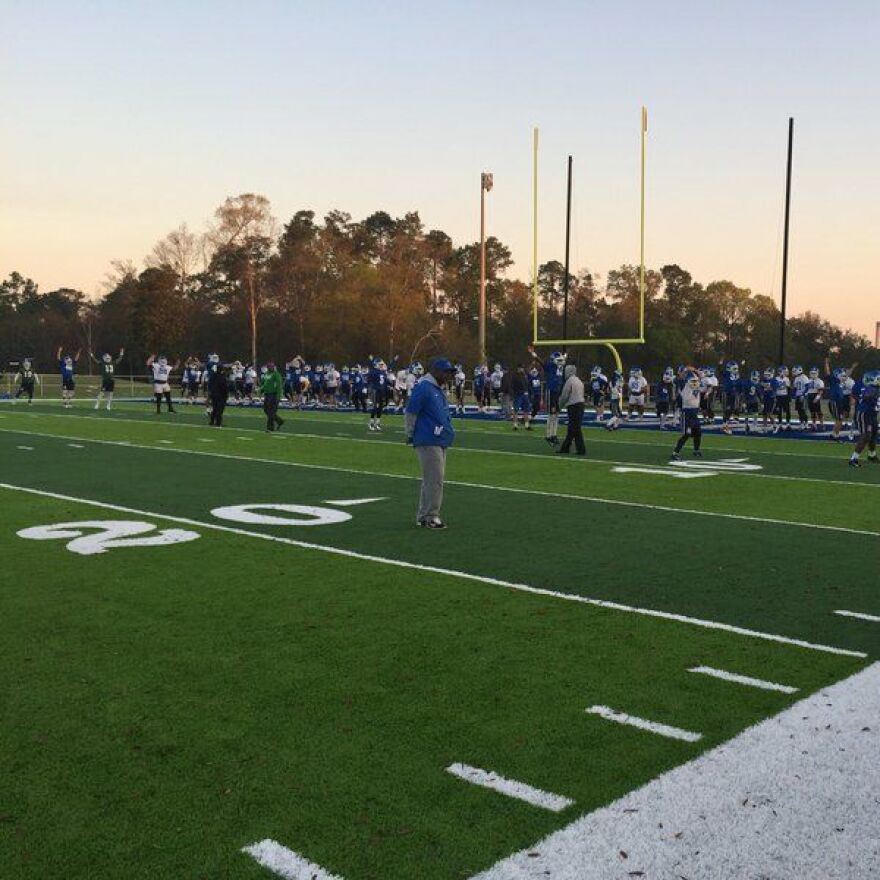 Spring drills opened Tuesday morning for UWF football, five and a half months away from the Argonauts' first-ever game.
Ninety-two players assembled in the early morning with temperatures in the 40s, to begin the first of 15 practices leading up to the Blue-White spring game on April 16.
It's a bit different from last spring, when nine players were eligible to practice on the intramural field in shorts and T-shirts. This year, the drills are on the brand-new artificial turf facility in full uniform.
"What a great start to 2016 for the Argos. We're on this wonderful field, and we've got a full team now. So we're on the clock like everybody else," said Head Coach Pete Shinnick, who says the goal coming out of spring practice is to gauge each player's capacity for success in the fall – whether they can become a starter not just at UWF, but in the Gulf South Conference. Another is to find the Argos' starting quarterback.
"We have five quarterbacks right now, and that's the position I coach," Shinnick says. "That's always the one question that gets asked the most. We've brought in a transfer and have four returning guys. We're excited about the competition that's going to take place."
Watching the practice from the sidelines was UWF Athletic Director Dave Scott. He believes that the word is getting out about Argonaut football, and its impact will go beyond blocks, tackles and touchdowns.
"I think it's going to create a lot of tradition at the university," said Scott. "Not that we don't have it already; we're at a point in our growth, we're celebrating our 50th anniversary [in 2016-17] and it's going to become a great source of pride for the community."
Per NCAA rules, it's practice without pads other than helmets for the first couple of days. The first day with full pads and contact work is Friday. With the first game against Ave Maria University set for September 3, Head Coach Pete Shinnick says for now the focus is getting the work done in the run up to the spring game.
"April 16th, eleven o'clock right here," said Shinnick. "If you haven't seen the field yet that would be a great day to do it. If you haven't had an opportunity to see us live, come on out."
Tuesday and Thursday practices will begin at 7:00 a.m., and at 2:30 p.m. on Fridays. Saturday drills begin at 11 a.m. Add to that the early morning weight room sessions. The times are geared towards the players' academic schedules, with final exams on the horizon.