GOP Frontrunner Dr. Ben Carson's Book Signing Draws Huge Crowd
Despite Sunday's rainy weather, there was a huge turnout for Republican presidential candidate Dr. Ben Carson, who held a book signing event at the Books-A-Million store in Pensacola.
Carson's appearance at Books-a-Million is part of a national tour to promote his latest book, "A MORE PERFECT UNION What We the People Can Do to Reclaim Our Constitutional Liberties."
The book signing event comes on the heels of his recent surge in the polls, where he ranks at or near the top, along with GOP rival Donald Trump.
About an hour into the two-and-a-half hour event, book store officials estimated that more than 2,000 books had been sold, and the line of people with their books in hand snaked all throughout the store.
Melynda Corley of Beulah arrived at the book store around 7:00 a.m. and was first in line. "I've been reading his books," said Corley. "I've been loving what he's saying on the big debates and he's a Christian man. I totally believe in everything…I mean he just nails every interview. I love him."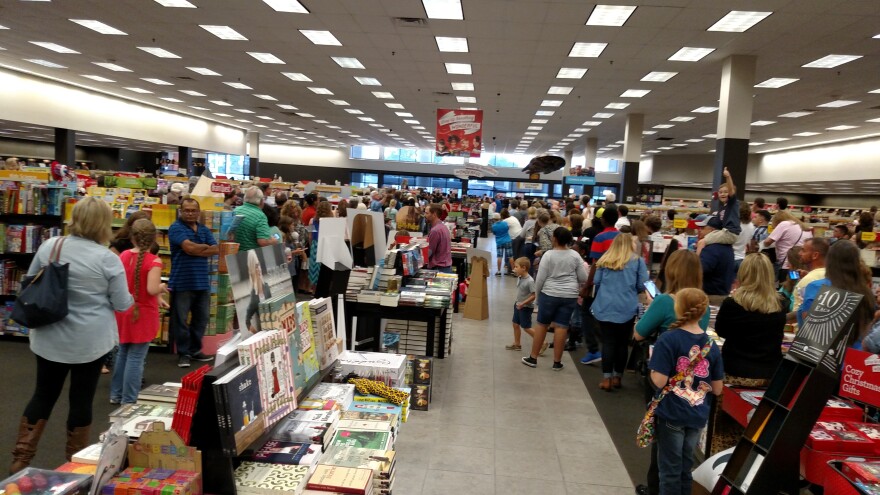 Wayne Remmer of Pensacola attended the event with his family. "Well, we've got three kids and wanted them to get into the political process," said Remmer. "A lot of it is the social conservative piece of it, but also the fiscal policy that he has and the strength that he wants to have with foreign policy."
The GOP front-runner took time out during the book signing for a short interview session with local reporters.
"It's an important part of America, plus I'm a Florida resident" said Carson in response to a question about being the first presidential candidate to visit Pensacola.
But, most of the media focus was on Carson's demands for changes in the format of the Republican debates and the meeting Carson's campaign team helped organize Sunday to discuss them.
"Right now, we're really on a fact finding mission to find out what everybody thinks and to find out how we can improve these," Carson said. "It's not about any one of us. It's about the American people and it's about being able to disseminate to them the information that will allow them to make an appropriate choice, and that can't be done in the format that we have now."
The changes being proposed by Carson include more time for opening and closing statements, stricter time limits and less "gotcha" questions. Additionally, Carson would like the debates live streamed on the internet, as well as broadcast on television.
In addition to his performance in the polls, Carson's campaign is doing well in terms of financial donations. He posted this announcement on Twitter.
"In the month of October, we raised $10 million and today we'll receive our 800,000th donation. I am humbled by your support. Thank you."
After Pensacola, Carson's was scheduled for an evening event at the Books-a-Million store in Panama City.