UWF Explores Path To "Emerging Preeminence"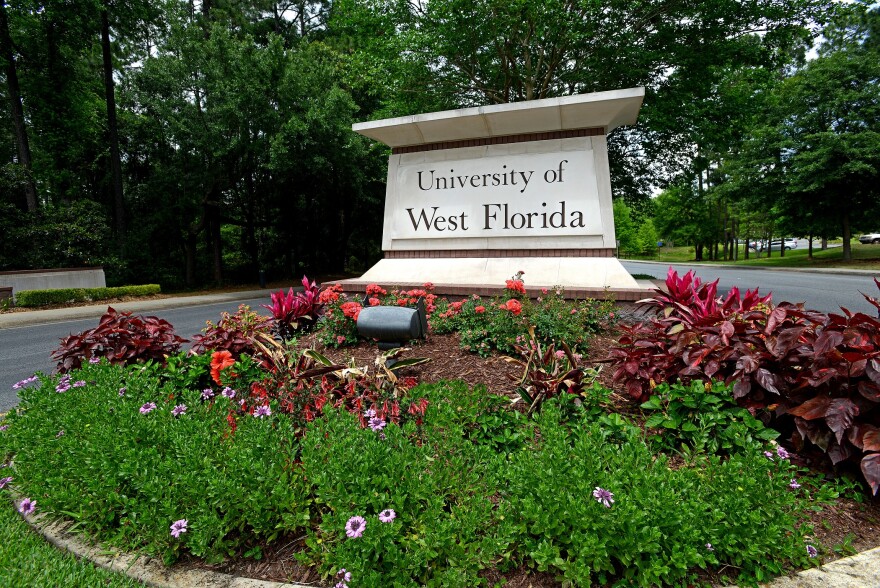 As the University of West Florida looks to its 50th anniversary, it's also considering its future. UWF has begun to lay the groundwork for the challenging task of achieving 'emerging preeminent' status as one of the top research institutions in the state and nation.
Currently, Florida State and Florida are the only two Preeminent Universities in the state. But, the Florida Legislature created a path for other universities with its passage of House Bill 7029. The measure made changes to the metrics and established the Emerging Preeminent University Program.
"We focused so much on metrics over the last three years, we felt that it was time we set a target much further out," said UWF Board of Trustees Chairman Lewis Bear before the BOT voted in March to begin developing a strategic plan for UWF to achieve 'emerging preeminence.' "Certainly metrics are important to us, but for what reason? And, what is it we really want to be when we grow up?"
UWF Provost Martha Saunders has taken the lead in developing the plan. "So, the question is what do we do now to get us to this place that we want to be?," said Saunders at the BOT meeting on June 15.
Designation as an "Emerging Preeminent State Research University" requires qualifying institutions to meet state six of 12 benchmarks set by the state. South Florida and Central Florida are now in the pipeline for approval.
To apply, a 5-year plan would have to be submitted to the Florida Board of Governors. Dr. Saunders says in the early going of UWF's quest, they've identified four major areas of impact. Those are enrollment, level of selectivity, faculty, and physical infrastructure.
Beginning with enrollment, UWF began the fall of 2015 with about 12,800 students.
"When you compare us to schools that have reached this status, their enrollment is much higher than ours. So, the first step is we will need to move toward doubling our enrollment," Saunders said.
Keeping in mind the university's performance-based funding, UWF will have to shift its focus to recruiting top students, who will be successful at UWF. For example, one of the 'emerging preeminence' benchmarks requires incoming freshmen to have an average weighted GPA of 4.0 or higher on a 4.0 scale (currently, the required GPA is 2.5 for freshmen) and SAT scores with a pass rate of at least 75%. That's a score of 1800 on a 2400-point scale or 1200 on a scale of 1600-point scale.
Also, the university would have to have a freshman retention rate of 90 percent or higher and a 6-year graduation rate of 70 percent or higher for full-time, first-time-in-college students. The full list is available on the UWF website.
On the downside, Saunders says such an increased level in admissions will have a significant local impact.
"We draw a lot of students from this community who may not be admitted to UWF if we dramatically increase our admission standards. So, these are a lot of the things we'll need to work through as we move forward."
The impact on local students was a point of concern for some of the trustees, many of whom agreed that improving UWF's 2 + 2 program with area community colleges and helping them create new degree programs will be crucial. Also it was noted that area high schools should not be forgotten.
"What are we doing to help those students be more fit to what we are looking for in the future," asked Trustee & SGA President Jake Hebert. "So, if these are the people that are already becoming our students, how do we make those students become what we are looking for rather than excluding them in general?"
When it comes to enrollment, Dr. Saunders points out that an increase in students will require an increase in university faculty, almost tripling UWF's current number to about 600 in order to reach the competitive levels needed. They'll look to recruit in areas of strategic emphasis and they'll have to be top-notch. She described them as "rainmakers."
"Rather than bringing in people at the assistant level, brand new grads out of PhD programs, we may want to bring in more seasoned faculty, who already have a track record of grant funding, who can come in and work with us as well," Saunders said.
UWF has already launched a faculty recruitment campaign. "Make Your Mark" uses the talent already at the university to make the case for why others should come here. The ad features John C. Pace Distinguished Business Professor Dr. Scott Keller, Assistant Professor of Biology Dr. Alexis Janosik, Assistant Professor of Engineering Dr. Bhuvaneswari Ramachandran, and Dr. Karen Molek, Administrative Fellow for Student Engagement, Department of Chemistry.
The marketing campaign is now in full swing with advertisements in Florida Trend, Business Alabama and 850 Magazine, as well as the UWF website.
Another part of the recruitment equation is infrastructure, which means more lab and office space will be required. And in that regard, UWF President Dr. Judy Bense says the kind of faculty they'll be seeking will have certain expectations.
"The first thing that you show prospective faculty candidates, that you want that are already accomplished, is your facilities. And, if they don't like them, it's over," Bense said.
Bense says an $11 million appropriation to renovate and expand the Lab Sciences Building 58 is a start. Also, UWF plans to go after capital funds from Triumph Gulf Coast. To enhance their chances, Bense is forming a coalition with the community colleges to present proposals that will serve the entire region.
Achieving status as an Emerging Preeminent University is a long-term process, but doing so would transform the university and the northwest region, with UWF's annual economic impact estimated to be almost one-and-a-half Billion dollars, according to a 2012 study by UF & FSU. Administrators are working toward having a plan ready to submit within the next two years, which is the timeframe established by the Florida Board of Governors.