FEMA Mobile Centers: What To Expect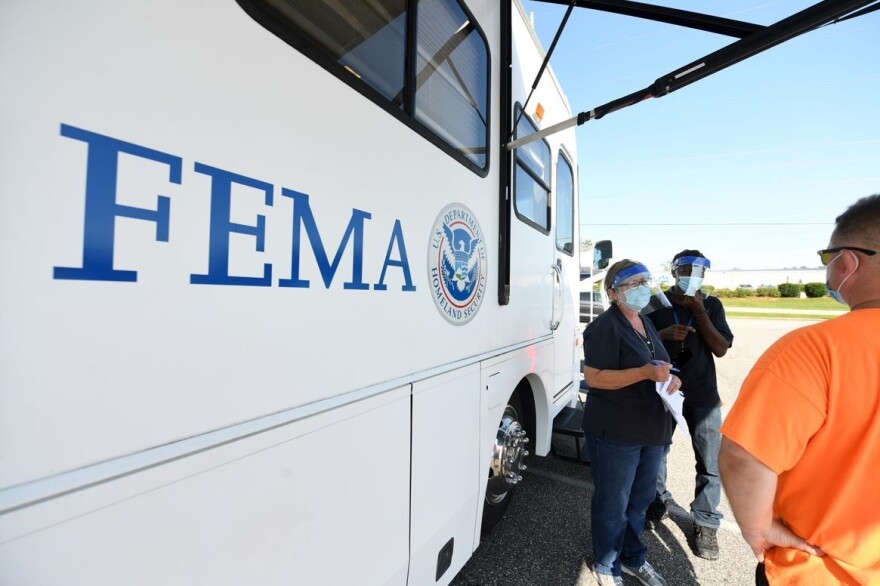 FEMA has opened mobile registration centers across the panhandle, from Escambia to Bay County to assits residents with registration and answer questions about disaster-assistance programs following the aftermath of Hurricane Sally.
The centers operate under COVID-19 protocols to ensure safety for visitors and FEMA personnel. Social distancing and face coverings are required.
Residents can also register with FEMA online by visiting disasterassistance.gov, downloading the FEMA app, or calling 800-621-3362 (800-462-7585 TTY). Mulitlingual operators are available. The toll-free numbers are operating from 7 a.m.-10 p.m. seven days a week. Those who use a relay service should provide FEMA with their specific phone number assigned to that service.
The following information is necessary when you register:
Address of the damaged dwelling where the damage occurred (pre-disaster address)
Current mailing address
Current telephone number
Insurance information
Total household annual income
Routing and account number for checking or savings account (this allows FEMA to directly transfer disaster assistance funds into a bank account)
A description of disaster-caused damage and losses
Reminder: FEMA never charges for registration, home inspections, grants, disaster-loan applications or anything else. If you have registered and want to verify any correspondence from FEMA call 800-621-3362. If you suspect fraud, call the National Center for Disaster Fraud Hotline at 866-720-5721 or the Florida Attorney General's Fraud Hotline at 866-966-7226 or report it to your local police department.
For those seeking FEMA assistance after Hurricane Sally, FEMA requires proof of occupancy for all applications. Applicants can provide proof of occupancy in several different ways.
Employer statement Utility bill Merchant statement (credit card or bank statement)
Phone bill Cable/satellite bill
Driver's license or state-issued ID card
These documents must be dated within the last three months to qualify as proof. For those who do not have standard Proof of Occupancy, a written self-declaration must be included.
The self-declaration is a written statement and must be sent to FEMA with the applicant's name, address of the damaged property, length of time residing in the property, an explanation of why the standard proof cannot be provided, and a declaration statement saying, "I declare under penalty of perjury that this Declaration of Occupancy is true and correct."