COVID test sites changing in Pensacola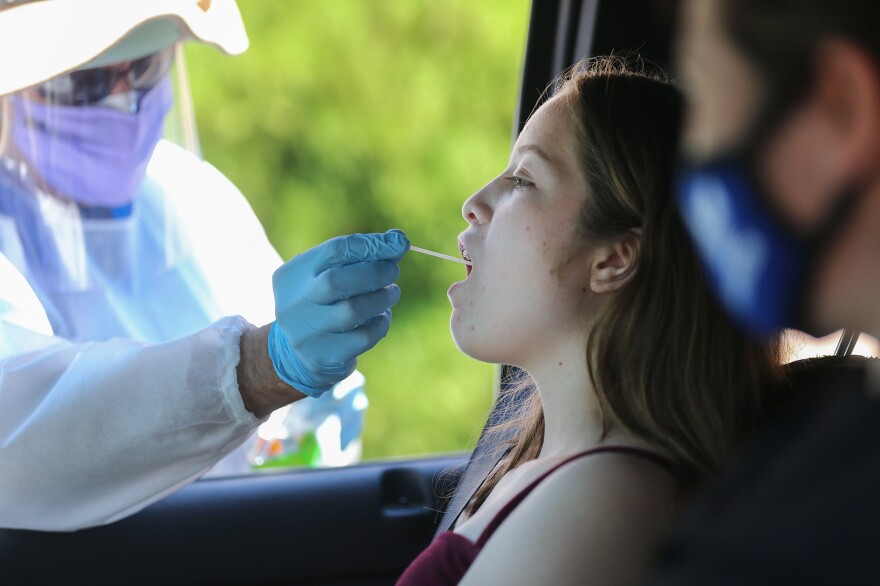 Testing for COVID-19 in Pensacola is changing locations. As of Friday, Ascension-Sacred Heart suspended its drive-through program as the Florida Department of Health in Escambia County resumes theirs.
Ascension Medical Group restarted its drive-through program on Jan. 4, amid the latest surge of the Omicron variant. This is in response to a jump in demand for medical services at Ascension's physician offices and urgent-care centers. Staff working the drive-through have been reassigned to their normal duties. Meanwhile, testing elsewhere continues.
"StatLab, which is a state-contracted vendor, has been in our community since January 6, and have been offering drive-through testing 6 days a week since then," said Marie Mott, administrator at the Florida Department of Health-Escambia County.
"They can go through the drive-through operation across Fairfield Drive across from the Health Department — 3330 West Park Place — and I like to tell people it's right behind the Waffle House on Fairfield," she said. "They're there from 9-6 Monday, Thursday, Friday, and Saturday; and from 8-1 on Sunday."
Testing on Tuesday is at the Marie Young Community Center on Wagner Road in Pensacola, from 9-6.
"The StatLab site is averaging about 200 samples a day [from] people coming through; right now we don't have plans for wrapping things up, but that's constantly assessed," Mott said. "So, as we learn more about the demand and how it needs to be met, we will be responding accordingly."
And, if you don't want to be tested in your vehicle there are other options.
"We do have appointment-based testing at the Health Department as well, and that can be scheduled by calling (850) 595-6500 and choosing option 6," Mott said. "You typically don't come into the building; we have some parking spaces designated and the testing staff will go out and collect the sample."
Meanwhile, there's been some confusion over the amount of time that people with COVID should quarantine. CDC Director Dr. Rochelle Walensky, appeared on ABC's "Good Morning America."
"We talk about isolation in the context of people who have been, 'I've got a positive test,' who know that they are infected," she said. "And we have now dozens of studies referenced on the CDC website that have demonstrated that you are most infectious in the one to two days before your symptoms, and the two to three days after your symptoms."
She added that if exposed to the virus, vaccination status determines both quarantine and the severity of the disease, according to a recent study of 1.2 million people who were recently vaxxed.
"Severe disease occurred in about 0.015% of the people who received their primary [shots] series, and death in 0.003% of those people," Walensky said. "In the context of Omicron, this means not only just to get your primary series, but to get your booster."
With testing at Ascension-Sacred Heart going on hiatus, DOH-Escambia's Marie Mott says they're gearing up for additional people coming to them.
"It really wouldn't surprise me if the traffic at the drive-through site increases; that's ... to be expected when you have one operation closing down," Mott said. "We constantly communicate with our partners and try to push out information about other peoples' testing operations so that as many people can access testing in the community as needed."
While Ascension Sacred Heart's drive-through is closing, it will continue to provide COVID-19 testing to patients at its four urgent care centers at Pensacola Boulevard, U.S. 90 in Pace, Sorrento Road in Escambia County and U.S. 98 at Tiger Point. Patients must first see a doctor or other healthcare provider, who will then order a COVID-19 test.