Lee Square Gets Another Look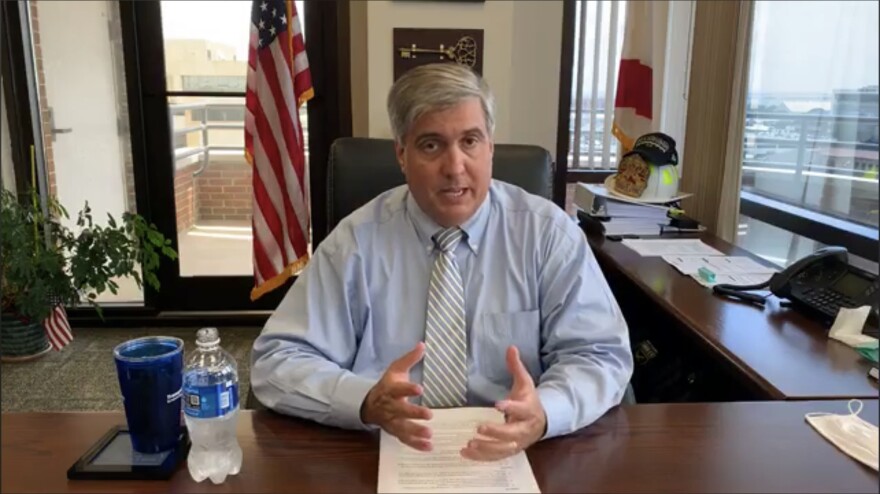 Protests over the death of George Floyd in Minneapolis are leading to how people view Confederate monuments and symbols. And that could lead to a name change at Pensacola's Robert E. Lee Square. The effort is expected to go before the City Council next month
Mayor Grover Robinson is also proposing a return to the park's former name.
"On that July 16 meeting, we're going to take to the council a request for a change of the name from Lee Square to Florida Square," said Robinson.
The mayor added that he wants to see the change before next year's Florida bicentennial celebration.
"We're going to be celebrating, in July of 2021, 200 years of Florida being a part of the United States," Robinson said. "That happened right here in Pensacola, Florida; the tag line is 'First and Future.' What we believe is we should be looking to deal with our past, but to do it in a way that is inclusive."
Speaking on Facebook Wednesday, the mayor said another decision to be made by the council is whether or not to remove the Confederate monument at the square.
"I've always believed that some cities that could figure out the best way to deal with that and do it respectfully; and find a way to teach everybody's history and working together is the best way that will move us forward," said the mayor. "Even Saturday while I was at the [protest] event, I talked to several individuals, and I thought we could add stuff to what is Florida Square and begin to have an equitable discussion."
During his weekly news conference Monday, the mayor said that was not the time to discuss removing the monument. On Facebook Wednesday, he said what he meant by that was not at that particular moment, 9:30 Monday morning.
"We still had not investigated what the mayor's office could do, or what could happen," Robinson said. "On Monday we were still talking, but we didn't know anything until Tuesday with legal counsel and a briefing; and then finding out that counsel did, in 2000, enact a number of decisions that did relate to that."
The 20-year-old city policy mandates the City Council to vote on renaming or removing what's considered to be an "historical resource" from Pensacola. As it stands now, says Robinson, Florida Square as-is does not represent everyone in the city.
"For a long time it's been my position that we could add to that location; and we could make it something that is representative," said the mayor. "I talked to staff and tasked then with the ability to go out there and look at the square; and find out if we could add to it prior to July 2021 and have something that reflects everyone, or if it can't."
The monument in Lee Square was erected in 1891. Some historians say Confederate statues and monuments put up that long after the Civil War were actually aimed at intimidating the African-American populace during the Jim Crow era. In 2017, then-mayor Ashton Hayward called for its removal.
"We want to be inclusive and what makes us great is our diversity in Pensacola, Florida," Hayward said. "That's everything we've fought for as long as we've been in office and we'll continue to fight for that. Because your city's great when it's diverse and you have inclusivity."
The city council took no action then, other than asking staffers to check out the city's historic monuments. Further inaction ensued, and the issue went away. Fast-forward to 2020 – Mayor Grover Robinson says the issue now is not about his decision, but what's best for the community.
"If we're going to go forward in this whole process, we've got to start thinking about how we do this together and work together in what we have," Robinson said. "Or else we will have to figure out a way to remove and start over. I'm perfectly happy with living by whatever comes out of that."
If protesters in Pensacola get their way, the monument would go the way of the musket and horse cavalry. Similar statues have come down in Louisville, Mobile and Jacksonville, and other cities are considering the same. As the discussion continues, Robinson is asking that the dialogue is respectful, reiterating that a diverse group has to work together.
"That includes [the] descendants of freed slaves; descendants of Confederate soldiers, descendants of Union soldiers, immigrants who have come since then, and Native Americans who have been here from the very beginning," the mayor said. "If those people aren't all working together, we won't be the city that we want to be."
Councilwoman Ann Hill, whose district includes the monument, told the Pensacola News Journal that now's the time to remove the monument and rename Lee Square. She's actively looking for alternative private historical locations — perhaps a cemetery — where the monument could go.