Florida Seeks to Pay College Athletes
Gov. Ron DeSantis is adding his voice to those of Florida lawmakers, seeking to lift NCAA rules that prevent college athletes from signing endorsement deals and profiting from their athletic abilities.
For now, the only student-athletes who get paid legally are at the service academies – West Point, Annapolis, and the Air Force Academy – but not as athletes. They're considered active-duty military and paid according to their rank.
"At the end of the day it's about fairness; student-athletes should not be treated worse than anybody else," said Gov. Ron DeSantis, who was flanked by a bipartisan group of legislators and former college players Thursday morning.
DeSantis said the state's 11,000-plus student-athletes should be treated as other students whose efforts on campus result in a payday while still there.
"If you're somebody who's in the band at [the University of Florida] and you started a YouTube channel, you would be able to take that in whichever direction that was," said DeSantis. "If people wanted to pay for ads and all that, no one would have said anything."
The rub, says the governor, is that athletes' are unable to use their name, image and likeness to their financial advantage.
"Other people make a lot of money using [the athletes'] name, image and likeness; but they, under current NCAA rules, are not permitted to do that," said DeSantis. "There needs to be reform to athletes being able to use at the collegiate level their name, image and likeness."
California Gov. Gavin Newsom last month signed into law "Fair Pay to Play" that would pay college athletes on a state level beginning January 1, 2023. The NCAA is expected to mount a court challenge. In Florida, the proposal by House Democratic Leader Kionne McGhee is modeled after the California statute.
"It probably doesn't surprise a lot of people to know that, when I look to see good policy ideas, California's not usually the first place I look," DeSantis joked. "But I think that California is on the right track. I think this is something the legislature should tackle in this coming session."
The proposals, for example, would allow college athletes to be paid to promote local businesses or as instructors in youth camps.
"I feel there are more questions than answers at this point," said Dave Scott, athletics director at the University of West Florida. "I think it's great that people are bringing attention to making sure we're taking care of our student-athletes because we should. But college sports has always been about amateur athletics."
Count Scott among those who are not big fans of the legislation. He believes the law is geared more toward the "Power-5" athletic conferences in Division I.
"There's many other facets to this question and I don't think you can have different rules in different states," Scott said. "You're going to have to have a governing body – that's what the NCAA's always been. I think there's probably a need to bring people together, which I think the NCAA is doing, to try to move this topic forward – what the means at what levels."
Scholarship limits in Division II are somewhat less than the major colleges. In Division II, full scholarships — tuition, books, and room and board — are few and far between.
"[Student-athletes] are still working, still getting loans, to do those things to get a college education," said Scott. [Pell grants] are based on need; whether you would qualify for that; [also] academic scholarships. A lot of times a student-athlete's putting that together to pay their way through school."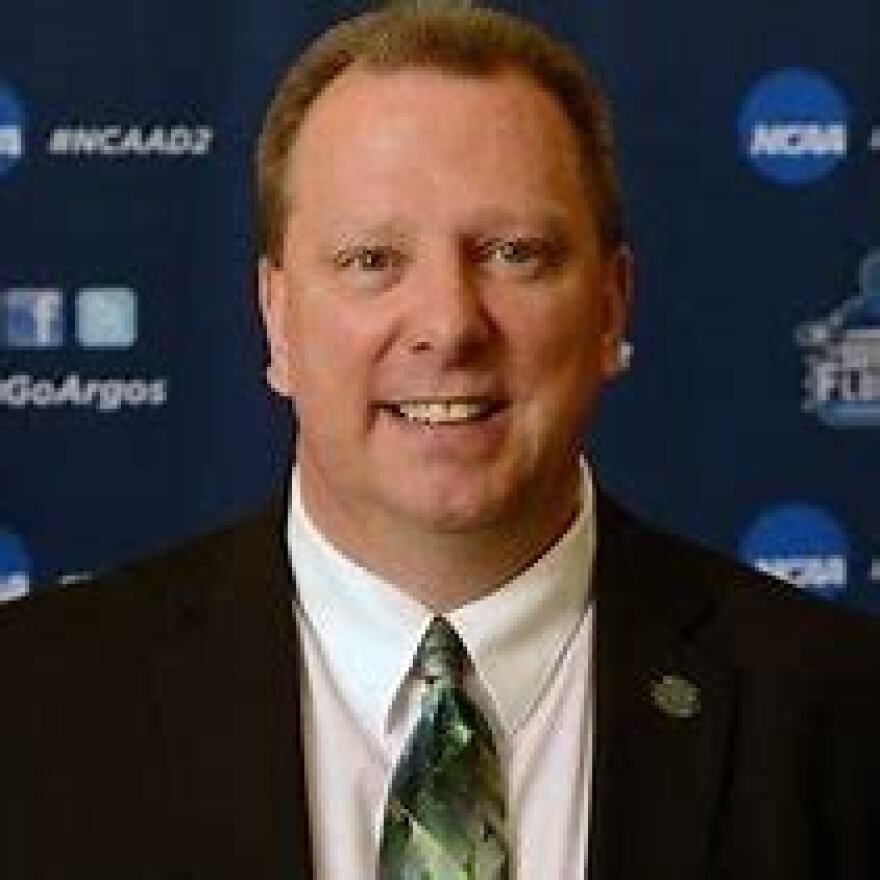 No doubt, this has the attention of coaches from all college sports across the nation. If "Pay for Play" is implemented, contends UWF Men's Basketball Coach Jeff Burkhamer, it would change the face of college athletics.
"Kids would be able to go out and figure out places to speak to get paid, or use their likeness for different things," said Burkhamer. "I'm not sure that the agents won't start using those kids to help them make money. It's going to be tough on a coach when he says we've got practice at 6:00 tonight and the kid says 'well, I've got a speaking engagement where I'm supposed to make $10,000.'"
One advantage of paying college players, contends Gov. DeSantis, is that it would benefit colleges of all sizes – such as Division II West Florida – along with the players' families.
"Some of the smaller communities that may have student-athletes that are known locally; I think women's athletics has a great opportunity to benefit from this," the Governor said. "Just imagine a student-athlete being able to earn $10,000-$15,000. For low- and middle-income families that really takes a big financial weight off their shoulders."
But Burkhamer has his own questions about how Pay for Play would actually work.
"Where do they get the money to pay those extra funds? I just don't know where they're going to get it from," said Burkhamer. "Are you doing it across the board, or just certain sports? I'm not sure how all of that's going to work. I think it's probably going to be a little bit easier for the bigger schools."
Burkhamer says he's "old school" on this issue, that college athletes already have numerous avenues towards financial aid and other benefits.
"Scholarships and Pell money and the extra things they get with meals – especially at the major college level; they also get cost-of-living expenses now," said Burkhamer. "So I think those guys are in pretty good shape without having to get extra. It will be interesting to see how this plays out. Initially, I think it's great for the kid but I'm not sure it's great for the game."
While the NCAA is against the notion of paying student-athletes, DeSantis says eventually it may have to reconsider its stance – not so much the growing number of states considering similar measures, but which states are considering them.
"California did the first step; if Florida then follows suit, then this is not like Delaware is doing this," said DeSantis. "These are really big, powerhouse states when it comes to college athletics. I think that is going to require the NCAA to reevaluate."
Next door, the Georgia General Assembly is expected to consider a similar bill in its 2020 session modeled after California's. Other states considering the same include New York, South Carolina and Minnesota – for now.