Panhandle Provides Post-Dorian Aid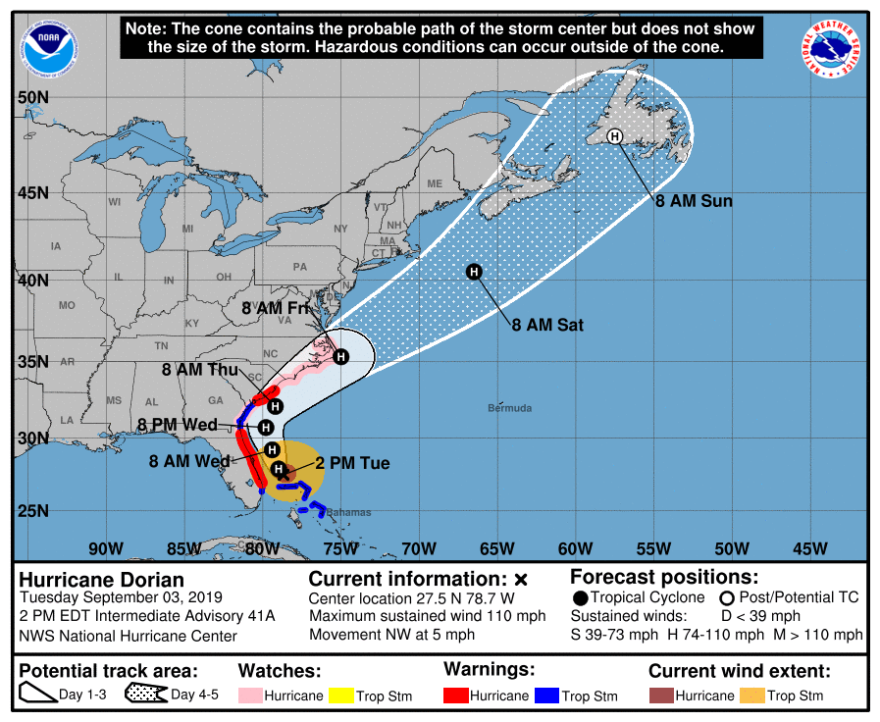 Hurricane Dorian's full impact on Florida's east coast has yet to be felt, but agencies from across the state – including the Panhandle – are gearing up to help.
An engine company from the Pensacola Fire Department is among the vehicles being deployed to potential trouble areas. Chief Ginny Cranor says they're assisting with Dorian recovery by contributing to one of the Engine Strike Teams pre-staged around the state as part of the State Emergency Response Plan.
"There are strike teams [and] task forces comprised of different types of assets," said Cranor. "Urban search-and-rescue teams, ambulances, engine companies. Because it's really too late, if we wait until we find out what the impacts are truly going to be to be in a position to actually help rescue people that are in distress."
Pensacola is joining other departments from the region – some others being Destin and Okaloosa Island Fire Departments; Midway Fire District, and Walton County Fire-Rescue. Currently housed at Camp Blanding, their final destinations will depend on the needs in certain areas.
"Hopefully for Florida, there won't be as much need as we've prepared for," Cranor said. "So we don't know what that final assistance location will be. Several different states are here, task forces and strike teams are all at this one central location."
Other states sending equipment and personnel include Mississippi, New York, New Jersey, Indiana, Nevada, and Arizona. The various crews are bringing 72 hours' worth of supplies to their designated area – items deemed essential.
"It's basic supplies; we sent our crews certainly with enough water and MREs, but we also want them to have sunscreen, and insect repellent and things like that," said Cranor. "So they have to be self-sustaining; they have to have a tent."
That's one lesson learned from another Category-5 storm -- Michael last October -- when the initial crews went into a devastated Mexico Beach.
"The crews didn't have any type of supplies or outside resources," Cranor said. "Those crews were sleeping in tents. That's on example of what our crews have to leave and be prepared for. But right now, they're at Camp Blanding and they have some logistical support."
The lessons learned from Dorian, says Pensacola Fire Chief Ginny Cranor, will find their way into the manuals for the next storm threatening the local region, as did current methods in use now.
"Really, where we're staged, a lot of the areas and the departments that will be affected in those areas did the same thing for us for Hurricane Ivan," said Cranor. "They were pre-staged in a forward location, just waiting to find out if we needed help. And indeed we did."
"We came down Monday, just under 100 people – mainly line workers and support personnel – and that includes about 20 bucket trucks," said Gordon Paulus with Gulf Power.
The western Panhandle utility has sent crews and other resources to help parent firm Florida Power & Light handle the potential impact of Hurricane Dorian. Paulus is on-scene at Daytona International Speedway, which is serving as a staging ground.
"We're still in kind of a holding pattern right now, but we do have up to 245 Gulf Power employees who stand ready to help in other areas," Paulus said. "Including customer service, warehouse logistics, things like that. I'm going to document through social media what our crews and doing to restore power, and then helping out with any media interviews that occur."
One of the reasons Gulf Power is able to send a contingent downstate is that Dorian poses no threat to the utility's own service territory and customers.
"Whenever we go on a storm trip to help out another utility, we ensure that we've got enough crew back home in northwest Florida to make sure that our customers are being taken care of first," Paulus said. "And if, for some reason, any storm would have happened to come back toward us then we would pull our crews back. But I don't think that's going to happen in this case."
With more questions than answers about Hurricane Dorian's impact at this point, Paulus says the Gulf Power crews' deployments are pretty much open-ended until further notice.
"We'll be here as long as there's a customer out; that's how our mutual assistance agreement works,' said Paulus. "We always plan to stay at least two weeks; that's been kind of the mantra when Gulf Power employees go on storm duty. We've got that set up, but we'll just have to wait and see what the storm does."
And Hurricane Dorian is a not-so-subtle reminder that this is the height of the hurricane season. Preparation and safety tips can be found at www.GulfPower.com/Storm.