A Lesson In Humanity: UWF Students Visit National Peace and Justice Monument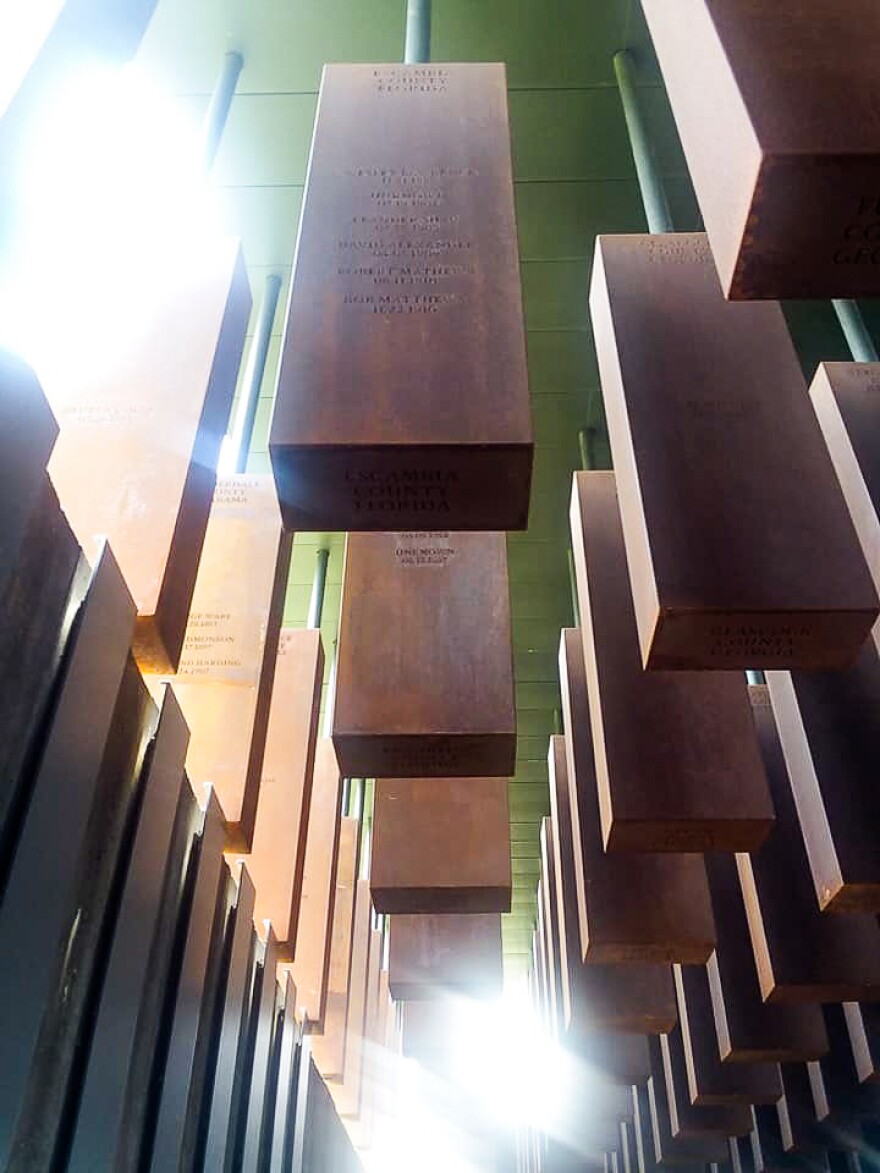 College students are usually snoozing at 7 a.m. on Saturday. But Oct. 3 in the early morning, more than 100 Kugelman Honors students at the University of West Florida piled onto buses for Montgomery. They were traveling to the National Peace and Justice Monument, more popularly known as the lynching monument.
This field trip is part of a course all first semester honors students are required to take. The class is titled "Becoming Human" and focuses on the evolution of humanity. Dr. Gregory Tomso is the director of the honors program and teaches the first-semester course. He explains why he chose the lynching monument as the class field trip.
"The trip to the legacy museum and the national memorial for peace and justice, the lynching memorial, fit into the class because they show us firsthand the way in which racial dehumanization has happened in the United States and it gives students an unforgettable and very visceral representation of our very recent past."
Before reaching Montgomery, students expected a variety of emotions and realizations. Phillip Billings is a senior in the Honors program who joined the freshman class for their trip. Originally from Arkansas, Billings thought he might find similarities from back home.
"I don't know what to expect from the monument honestly," he said. "I'm expecting it to be depressing and for more realization of the area where I grew up from."
When the class first arrived in Montgomery, their first stop was the Legacy Museum. It takes visitors through the plight of African Americans connecting the earliest days of slavery to segregation, Jim Crow laws, mass incarceration and the war on drugs.
Part of the museum highlighted lynching sites across the country. Some students noticed they had grown up nearby these places. Lisa Price is a freshman and describes her reaction inside the museum.
"It was shocking to see that a lynching actually happened 30 minutes away from where I'm from. You know these things happen, but you don't really know it unless it's sticking right there in front of you"
Billings said walking around Montgomery reminded him of home in Arkansas, a place where people don't openly talk about lynching or racism.
"Going through and seeing all the things that have happened in areas I grew up but never heard about was depressing."
As solemn as the museum was, Price said it helped her and her classmates prepare for the monument
"Going to the museum first because then you feel emotionally connected to it so I think going to the monument we'll look at it in a different light than we would have if we just went there first."
The lynching monument is massive. Hundreds of rusty metal boxes about the size of the average human body hang above visitors as they travel through the memorial. Each box represents a county in America where people were lynched. Their names are engraved on these boxes. More than 4000 names are a part of the monument.
John Franks is a freshman in the Honors Program. For him, the monument says a lot about the dark side of humanity.
"I'm reminded of the power of hate and violence and just mindlessness that some people have. But then I'm also reminded that none of this was mindless that it was planned and constructed."
Freshman student Faith Flawn said the peace and justice memorial inspired her to learn more and stay engaged.
"I think it made me want to read up more on history because there was a lot I didn't know so I think I'm going to try and be more aware of things and keep up with news and probably read more on things like this."
Camila Carvajal is a freshman honors student and believes there is only one way to move forward after the trip to the lynching monument.
"For future generations, we need to show them that this is not OK, that we are all equal, that we are all human beings, that nobody deserves anything lower than that.
This was the UWF Honors Program's first trip to Montgomery. They plan to return to the National Peace and Justice memorial next fall with a new class of students.