South Walton's Underwater Museum of Art Now Open
A new art gallery opened in South Walton this summer — but you'll need to be SCUBA certified to visit it in person.
The Underwater Museum of Art is the brainchild of the Cultural Arts Alliance (CAA) and the South Walton Artificial Reef Association (SWARA) featuring seven unique, artificial reefs designed by artists. The reefs were deployed in late June and are ready for viewing.
"We wanted to add a cultural layer to the artificial reefs," said CAA Board President Allison Wickey. "We worked with Andy McAlexander (of SWARA) and got one acre to start with. Then we sent out an international call to artists."
No sooner were the eight-foot reefs deployed — featuring unique shapes such as an octopus, pineapple and a skull — the Underwater Museum of Art became a top destination profiled by The Smithsonian, National Geographic and TIME magazine. CAA and SWARA are looking at deploying a second set of sculptures next year.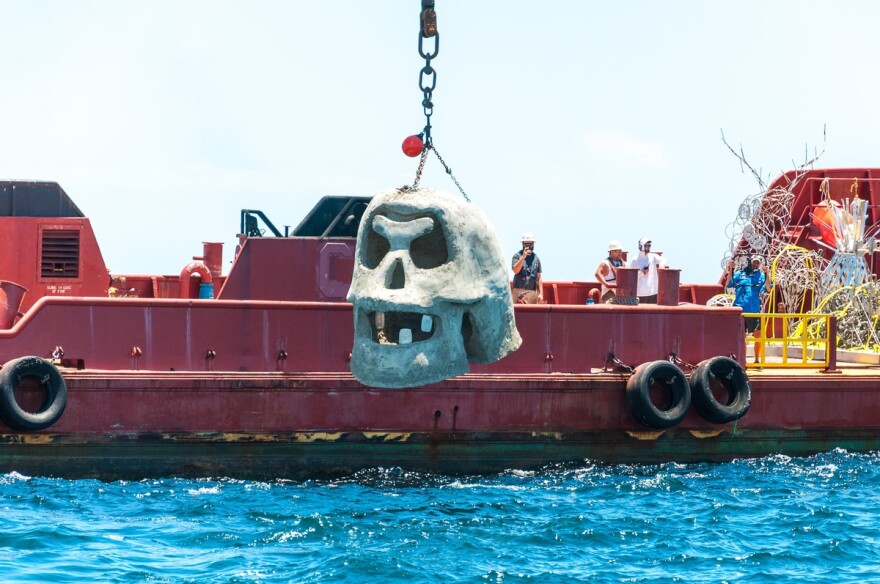 "It's unbelievable," said Wickey. "Almost every day, we see a new article about UMA. It was an idea that started with heart and emotion and has become this amazing, magical thing."
Wickey, who is an artist based on 30A, is one of the featured artists in the exhibit. She's known for her paintings of the Gulf Coast. Working with a team of designers, she created her first sculpture — an eight-foot-tall, eight-feet-wide octopus — for the Underwater Museum of Art.
"It was pretty demanding, a lot of back and forth," she said. "I learned a lot about the process and how to marry the artistic side with the technical side."
The coastal waters in Walton County are 95 percent barren, meaning there's little to no habitat for marine life. Artificial reefs help create protective habitats for plant and animal life. Since 2010, the South Walton Artificial Reef Association has deployed 700 artificial reef structures off the coast in Walton County. Working with SWARA is an "an ideal partnership," Wickey said.
Walt Hartley, SWARA board member, said they had no idea how successful the project would be. Like Wickey, the organization believed that art and marine conservation would be a "winning pair," he said.
"We had no idea how cool these sculptures would actually turn out and look and feel and function underwater," he added. "We had no idea they would create such unique and effective marine habitat so quickly."
The Underwater Museum of Art is located in a one-acre permitted patch of seabed off Grayton Beach State Park near the unique Coastal Dune Lakes. The sculptures are located approximately one nautical mile off the shore in 50 to 60 feet of water.
"It does feel like you're swimming through an actual museum in many ways," Hartley said. "We hope that visitors enjoy the artwork itself along with the marine growth and colorful species that now call UMA home. Hopefully visiting the UMA also inspires you to use your imagination, get creative, and work to preserve and protect our precious marine resources."
Wickey said she likes the idea of "drawing people in" by the visuals of the sculptures while educating visitors about marine life. Art and conservation don't have to be two separate things.
"Art is anything that provokes thought and changes perspectives," she added. "You're not just going down in the water to see sculptures. You're going down to see a whole other world."
For more information, visit umafl.org.