Manna Food Pantries' New Location Opens Soon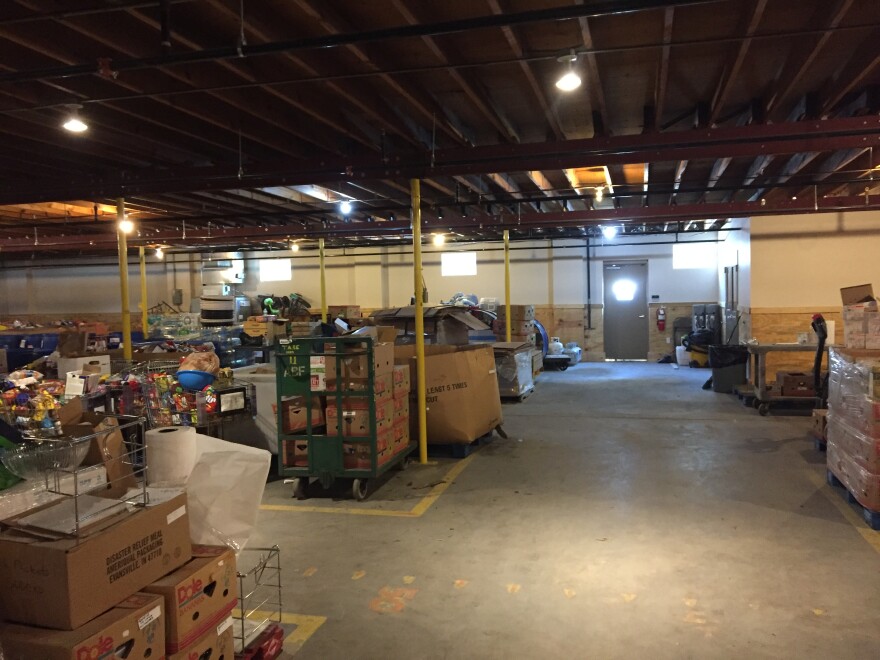 Three and a half years after its long time headquarters were heavily damaged in a flood, Manna Food Pantry has finally moved into its new home and is getting ready to welcome clients.
The new location is the former Pensacola Mill Supply building at 3030 North E Street. The building was gutted, the roof replaced and the outside given a fresh, new look. Inside, there is 23,000 square feet of warehouse space that is starting to fill up with food. Volunteers are already at work sorting through donations from the recent Fill the Mayflower campaign.
Manna has suspended service at their pantries during the move, but they hope to have their Certificate of Occupancy to open the new location to the public later this month. "This is the first time in three and a half years my office isn't on wheels" said Manna's Executive Director De De Flounlacker. She says in addition to the increased storage space for food, they no longer has to worry every time it rains. "We are on high ground, we are not in a flood zone."
Flounlacker says the building is within walking distance of two bus lines and about three blocks from the bus terminal. "What's really amazing about this building is it's going to give us the stability that we need, that we've been missing since the flood. And this building also will allow us to expand our partnerships and collaborations and do more for our clients than simply give out a bag of food."
Some of those services may include having a health care navigator on site one day a week from Escambia Community Clinics. "A lot of the folks that we see, they have a multitude of challenges. They're sitting before us because they don't have any food in their pantry. But there are so many things that led up to that [situation]. And one of those things are health care issues. So if we can have Escambia Community Clinics as a partner and involved here, then we can send anyone who may be having a health care issue over to see that health care navigator when he or she is here, and they can get them connected either to ECC or, if it needs to be, another health care agency in the community."
Other services that may be offered include legal aid services, the Children's Home Society and Escambia County Extention. "We're really going to be looking to see what we can identify as needs from our clients to see what organizations we want to try to partner with."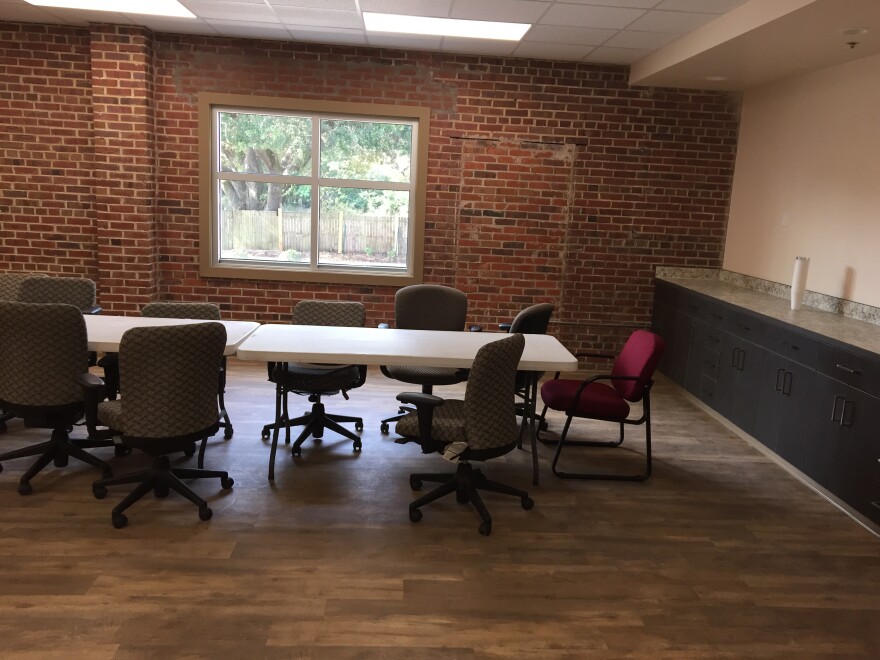 The E Street location will also have a community classroom available for local groups to hold classes or meetings. Flounlacker also says having everything under one roof for the first time will really make the operation more efficient. The old location on Gonzales Street, where Manna operated for decades has already been sold. So now it's just a matter of getting things up and running before the end of the year. "We're still just moving in. Honestly we only got the green light to start moving our stuff in the week before Thanksgiving."
Besides the warehouse, the building has new offices for staff and new rooms for client visits and pick-ups. There will be television screens and a children's area in the waiting room. And the set up will afford Manna's clients more privacy than before. "When people come to see us, they are not in a good space. And the last thing they want to do is have a bunch of people come in [while they are here asking for help]." Flounlacker says clients will have there own separate entrance and waiting area. The general public will enter in another part of the building.
Over the past year over 20 thousand local people have been helped by Manna Food Pantries, over 11,000 of them children. A quarter of Manna's clients are 65 and older, and 15 percent are active military or veterans.