Wack Installed As Pensacola-Tallahassee Bishop
Father William Wack was ordained and installed as the sixth Bishop to serve the Pensacola-Tallahassee Catholic Diocese Tuesday, in a ceremony at the Pensacola Bay Center.
The Bay Center was selected as the venue for the high mass over the 57 parishes in the sprawling diocese, because of the expected attendance. The front row was occupied by Wack's family – he's one of nine siblings. Both upper and lower decks were filed with friends, Catholic school students, and other supporters. – including a contingent from his former parish, St. Ignatius in Austin, Texas.
"A warm welcome to all of you who have come to this beautiful ceremony, in which a new shepherd is anointed and appointed, with the service of this local Church here in the Panhandle," said Archbishop Thomas Winski of Miami, who presided.
"Like the Good Shepherd himself, Bishop Wack will strive to lay down his life for you – the sheep of his new flock," Winski said. "And in the days, months, and years ahead you'll come to know him, and he will come to know you."
Bishop Wack, who's 50, is a native of South Bend, Indiana, a Notre Dame graduate, and has been in the priesthood since 1994. Other stops in his ecumenical career have been in Colorado Springs, back to Notre Dame, and Phoenix. Pope Francis named him in May to replace Bishop Gregory Parkes, who took over the St. Petersburg Diocese in January.
Ordaining a bishop involves a number of rituals -- the anointing of oil and Laying on of Hands on Wack's head by his soon-to-be fellow bishops. The most dramatic is when a bishop-elect answers questions about his faith, and his fitness to serve.
"Do you resolve to preach the Gospel of Christ with constancy, and fidelity?" asked Winski.
"I do," responded Wack.
"Do you resolve to pray without ceasing to Almighty God, for the holy people, and to carry out the office of High Priest without reproach?" Winski asked.
"I do with the help of God," Wack answered.
After those rituals, the new Bishop is given the symbols of his new office -- the Book of the Gospels, the Episcopal ring, his miter, or "high hat," and his Pastoral staff. At that point, the title "Bishop-elect" is shortened to "Bishop." And on this day – at the Bay Center -- Wack celebrated his first communion as the Pensacola-Tallahassee Diocese's shepherd.
Following communion, it was time to hear from Bishop William Wack – or as he prefers, "Bishop Bill."
"Well, this is pretty neat, huh? We should do this every Tuesday, I think," said Wack to uproarious laughter.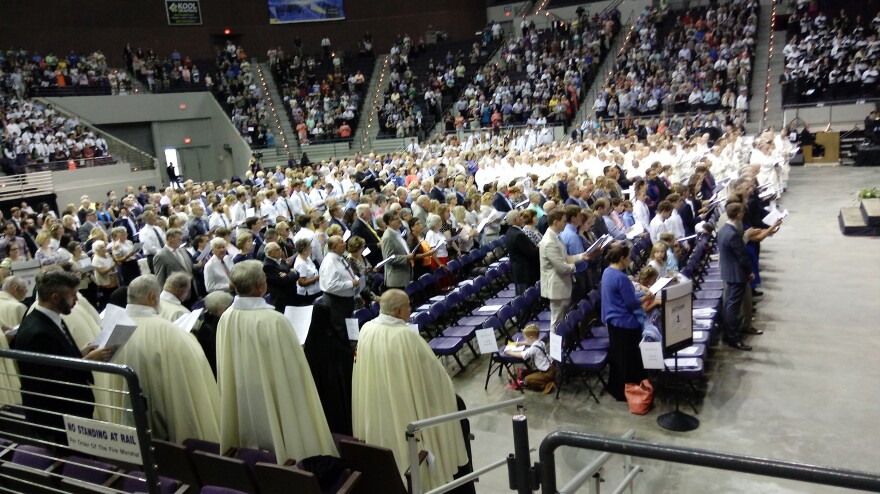 The newly-minted Bishop expressed his thanks to all who worked toward Tuesday's ceremony at the Bay Center -- while downplaying his own role in the ordination and transition.
"All I did was answer the phone back in May, panic a lot, and then show up here," said Wack. "And I am delighted and thrilled and honored to be here."
Besides his new duties in the Pensacola-Tallahassee Diocese, Wack will also serve as a board member of both the Florida Catholic Conference and Florida Conference of Catholic Bishops.