Recycling Center Opens In Pensacola
The Emerald Coast Utilities Authority's new recycling facility is up and running in Perdido, and it appears residents need a crash course in what to place, and not place, in their recycling cans.
ECUA opened the $10.6 million Interim Materials Recycling Facility in late August. During the dedication ceremony Steve Sorrell, the utility's Executive Director, pointed to failed partnerships with three private firms since 2009.
"We had a partnership with a company called West Florida recycling," Sorrell said. "They went under, filed for bankruptcy, and we had to help the [Florida Department of Environmental Protection] clean up the site. We hauled materials to Atlanta, and the transportation costs got too high. Then we partnered with a company out of Montgomery; they went under also."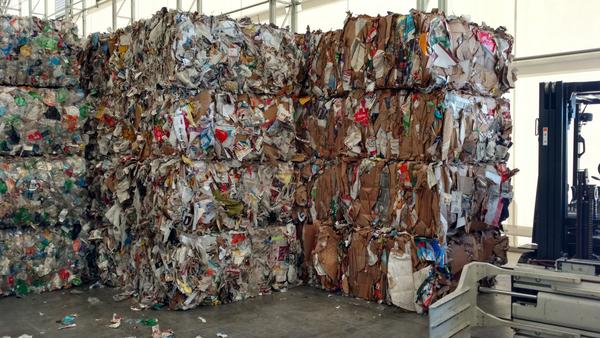 Credit Dave Dunwoody
When the deal with Montgomery fell through, Sorrell says that's when the decision was made to keep close to home. About 67 percent of ECUA's 100,000 customers take part in voluntary recycling. According to Sorrell, that translates to about 18,000 tons of materials. And he says the process is landfill- and pocketbook-friendly.
"It's not going to be a major profit-making enterprise, but we're thinking it's going to pay for itself," Sorrell said. "It's going to take all the materials that are being buried in landfills and it's going to recycle those. To give you one idea: one of the aluminum cans – every can that we recycle will save 80% of the energy it takes to make one of those."
Once processed, the recyclables will be bundled up, and sold on the now-recovered commodities market.
"The first step is that it goes into what we call a 'metering bin,' this 30 yd. hopper," said Mark Buntjer, Operations Manager for Zero Waste – the firm which operates the IMRF.
"It meters the material out into a nice, even layer onto another conveyer belt to what we call a pre-sort," he said. "Where they're looking for things mainly that would cause damage to the equipment."
Inside the 53,000 sq. ft. facility, conveyers take recyclable materials – paper, cardboard, plastics and glass – up to rooms where 30 employees separate them into different containers. Buntjer says a major issue is educating ECUA customers on what to toss into their cans. Some things – such as hypodermic needles – are dangerous to workers.
"We had a fellow get stuck," Buntjen said. "Is it going to be an issue, is it going to come back to haunt him? There are designated places where you should take the needles for disposal."
On Monday of last week alone, there were 50 syringes pulled from the recycling stream. But Buntjer says that's not the only headache they face.
"People are taking baby diapers, making them into a little football, and throwing them into the recycling bin," said Buntjen. "When the inspectors come in to inspect the paper, that's what they're looking for, those diapers."
An estimated 15 percent of the end product cannot be marketed, says Buntjer -- but he adds that the remaining 85 percent can be a real moneymaker. That includes Polyethylene terephthalate, or PET for short.
"We have a great plastic market in this part of the country," said Buntjen. "There are folks who make carpet backing from monofilament that's been made from PET. As you probably know, some of the biggest carper producers in the world are in this part of the country."
The new IMRF handles recycling from Escambia and Santa Rosa Counties, along with the cities of Milton and Gulf Breeze. Okaloosa County will soon come on board, and talks are underway on an interlocal agreement with the City of Pensacola.
A list of what's acceptable to the facility and what's not, is at ECUA.fl.gov.