UPDATED: Primary Voting Concludes With Some Surprises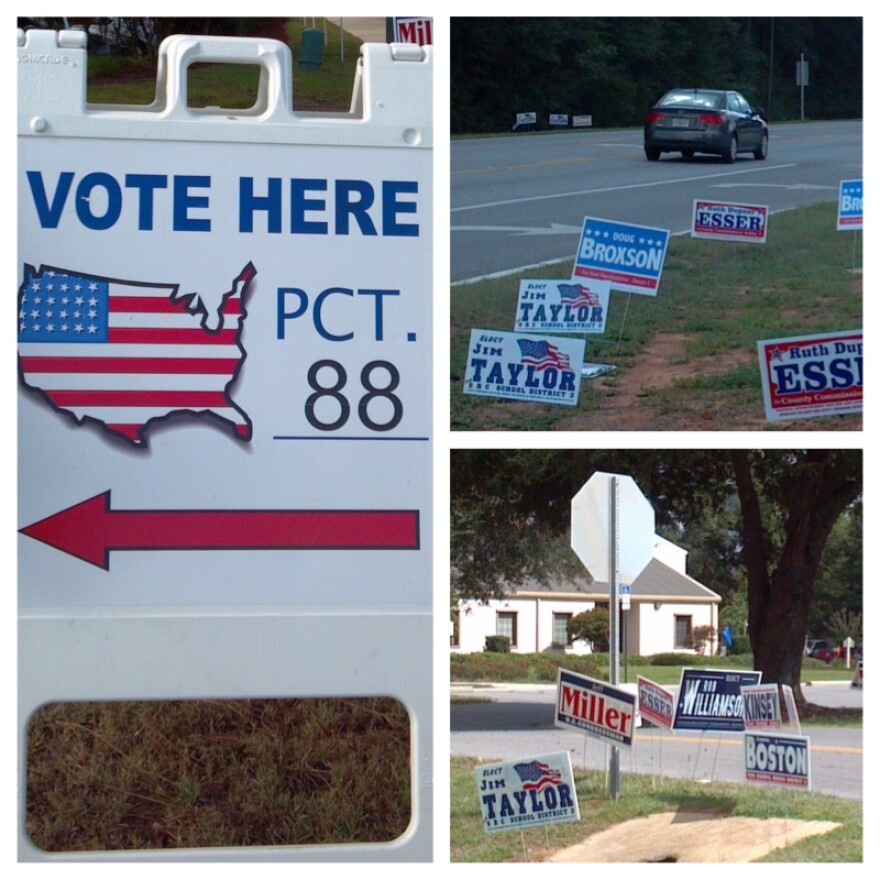 Title-9, Chapter 100.061 of the Florida Constitution states: In each year in which a general election is held, a primary election for nomination of candidates of political parties shall be held on the Tuesday 10 weeks prior to the general election.
In Tuesday's primary election former Republican Gov. Charlie Crist has easily won the Democratic nomination to challenge Republican incumbent Gov. Rick Scott in November. Crist easily defeated former state Sen. Nan Rich in Tuesday's primary.
"I am honored to be the nominee of the Florida Democratic Primary for governor," Crist said to a cheering crowd of supporters Tuesday night.
"It's about making sure that our children in our classroom have a fighting chance, that they have somebody who cares about them and doesn't cut education the way Rick Scott did. It's about making sure we have somebody understand that Floridians care about our environment and we need to have somebody that protects it," said Crist.
Meantime, Rick Scott coasted in his own primary toward a general election that will match the state's last two Republican governors. It's a contest that's already been brutally negative with Scott spending millions on ads attacking Crist.
In the race for Attorney General, George Sheldon defeated Perry Thurston in the Democratic Primary, and will take on incumbent Pam Bondi and Libertarian Party of Florida candidate Bill Whohlsifer in November.
In the upset of the night, challenger Trey Goodwin defeated incumbent Don Amunds who has served on the board since 2004 to win the District 4 seat on the Okaloosa County Commission.
"I'm excited. I'm energized. I'm humbled that the voters and folks in Okaloosa County have put their trust in me, and I'm ready to get to work for them," said Goodwin.
Goodwin, who's a local attorney in Destin, received 52% of the vote, while Amunds got 31% and challenger Henry Kelley finished in third place with 17%. This race was a universal contest, which means Goodwin wins the election outright and will take office in the fall.
In the other Universal Primary in Okaloosa, J.D. Peacock got 43% of the vote to defeat challengers Dan Spence and Charles E. Baugh Jr. for Clerk of Circuit Court and Comptroller.
Elsewhere in the Okaloosa County, the closest race of the night was for School Board District 1, in which challenger Lamar White defeated incumbent Cindy Frakes. Frakes is a local realtor and served on the school board for 16 years. White is currently an adjunct professor at the University of West Florida and brings 35 years of educational experience with him as a retired Okaloosa School District principal. Lamar White received 50.4% of the vote, while Cindy Frakes trailed narrowly behind with 49.6%. Although this race was close, it did not meet the threshold of a difference of 0.5% to warrant a recount.
In the other Okaloosa County School Board races, incumbent Rodney Walker got 47% of the vote but without receiving a clear majority he will face Joe Slusser who received 33% of the vote in the November General Primary for the District 3 seat.
While in District 5, the incumbent Melissa Thrush was re-elected with 54% of the vote defeating her opponent David E. Scholl who only received 46%.
And finally, there were several referenda on the Okaloosa Primary ballot. A county wide referendum that supports the renewal of temporary tax exemptions for businesses in order to attract jobs to the area passed with 75% of the vote. These same business tax incentives referenda also passed in the cities of Ft. Walton Beach and Destin. Lastly, the city of Valparaiso shot down a referendum to amend its city's charter while the city of Mary Ester said yes to amend theirs.
For a full review of the Primary results in Okaloosa County go the Supervisor of Elections website GoVoteOkaloosa.com.
In Santa Rosa County, incumbent Bob Cole ended the night with an extremely narrow lead in the race for the county commission District 2 seat. Cole trailed most of the night, but took over the lead late over challenger Jim Melvin. In the finally tally of the evening, Cole received 50.2% of the vote. Melvin got 49.8%.
"I'm very excited about the final results and Commissioner Melvin called me and congratulated me. And, of course, by state statute, there will be an automatic recount," said Cole, adding that he doesn't expect the outcome to change.
If the results hold after the recount, Cole will take on No Party candidate Wallis Mahute in November.
Meantime, in the Santa Rosa Commission District 4 race, Rob Williamson beat out a crowded field to win the Republican nomination and will face Libertarian Party of Florida candidate Etta Lawler in the next round.
Elsewhere, in Santa Rosa, for the first time in 20 years, there will be a new mayor in the city of Milton next year. In the city of Milton, Wesley Meiss scored an upset victory over long-time incumbent Guy Thompson. Thompson was first elected Mayor in 1994 and had been seeking his sixth term.
Checking the School Board races in Santa Rosa, District 1 incumbent Diane Scott was re-elected, winning easily over Sandra Nicely. In District two, Jim Taylor and Carol Boston were the top two vote-getters and will move on to the November ballot.
Across the region, one of the biggest upsets of the evening was scored by political newcomer Doug Underhill in the Republican Primary for Escambia County Commission District 2. "It's been a crazy journey for the last 100 days, but my team has absolutely delivered for me tonight. So, yes, it's an absolutely great night," said Underhill after defeating two-term incumbent Gene Valentino by a margin of 62% to 38% percent.
On the Democratic side, Deb Moore beat Ray Guillory and will face Underhill in the November 4, 2014 General Election.
In other Escambia County contests, a close race for School Board District 3 will extend to November, with incumbent Linda Moultrie to face challenger Charlie Nichols.
In Florida House District 3, incumbent Doug Broxson easily defeated Republican opponent Jamie Smith and will face Write-in candidate John Melvin II in November.
Republican First District Congressman Jeff Miller scored an overwhelming victory over John Krause in the GOP Primary. In November, Miller will again face Democrat Jim Bryan and No Party Affiliation candidate Mark Wichern.
Jennie Kinsey will become the region's newest circuit judge after beating Michelle Inere for the Group 22 seat.
For more information:
Florida Division of Elections
Escambia County Supervisor of Elections
Santa Rosa Co. Supervisor of Elections