The Cashore Marionettes Perform In Pensacola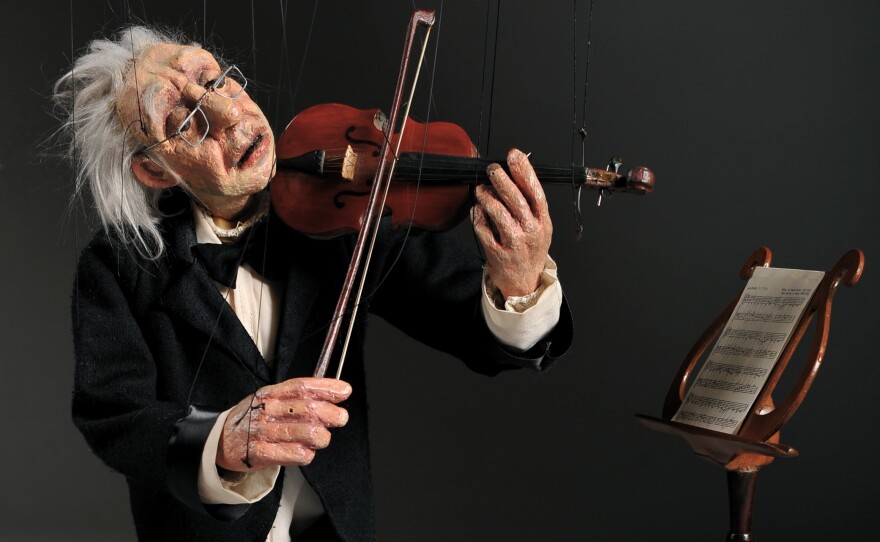 Maestro Zelinka, a marionette from the "Life in Motion" show
Matt Cashore
Mother and child, marionettes from the "Life in Motion" show
Matt Cashore
Elephant, a marionette from the "Life in Motion" show
John Mainka
The Cashore Marionettes will perform in Pensacola this Friday. The "Life in Motion" show presents puppetry as an art form, with material designed for the enjoyment of adults and older children.
Joe Cashore has been performing with marionettes full-time for nearly twenty five years. His wife operates the lights and sound during his performances and assists with manipulating some of the marionettes. He constructed his first marionette more than fifty years ago, after he had seen one hanging in a store.
"On stage, they have a quality that's unlike a living actor. I think it's inherently poetic, because it's like a metaphor for living," Cashore said. "The audience is willing to go feel with a marionette in a way that they're not with a living actor, 'cause whenever you're watching a stage play, somewhere in the back of your mind you know, 'This guy has a life different than this, he's pretending.' Whereas with a puppet, there's more of a purity about it. It's only this one thing."
Cashore studied fine art and worked as a painter, then later as a carpenter, but continued to create and perform with marionettes on the side. He began making them from wood, but switched to lighter weight materials to create more natural movement. He uses wood for the joints, and foam and bent wire for the rest of the body.
"I take little fishing weights, pieces of lead, and I attach them to different parts of the body, and string it up, and just reposition the weight until I can get it moving in a way that seems natural," Cashore said.
Throughout his life, Cashore has created over 150 marionettes. Fifteen will be used in "Life in Motion," being performed in Pensacola. The show is a series of fourteen stand-alone short pieces. Each one expresses a different theme. Some of Cashore's characters include the old violinist Maestro Zelinka, a mother and her baby, an elephant uncovering the skull of another elephant.
You can watch a sample of his show here:
http://www.youtube.com/watch?v=Y2Yzt0SgDBE
Cashore says he gets his ideas for characters from observations in everyday life.
"I have a little sketch book, and I'll make little drawings of who I think the character is. I'm trying to think of what kinds of positions I have to get the body into in order to communicate the main theme of the piece. It's kind of like a short story. I'm trying to eliminate unnecessary gestures. I think if everything in the piece can express the main theme of the piece, it makes it more powerful."
Cashore acknowledges that people often think of puppetry as entertainment for kids, but he says the show is intended for adults, teenagers and older children, and is not geared for young children and toddlers.
"We create a pool of light with spotlights. The marionette is in the light. I'm wearing black and working against a black backdrop. But I'm not invisible, and if the manipulation is good, the audience can erase me easily and watch the marionette. I disappear. But if they wanted to see what's happening, it's there to see," Cashore said.
The performance will take place on Friday, January 17 at 7:30pm at the Ashmore Fine Arts Auditorium on the Pensacola State College campus.
Katya Ivanov, WUWF News