Jonathan Byrd, Spencer Bohren, Earle & Stuart, Martha's Trouble
In January, host Pat Crawford welcomes the Jonathan Byrd Band; Spencer Bohren; Stacey Earle and Mark Stuart; and Martha's Trouble.
Jonathan Byrd: "I'm a seventh generation Carolinian. My granddaddy's granddaddy's granddaddy was born in Caswell County in 1795. Maybe we go back further, I don't know. In 2002, I went to the Kerrville Folk Festival in Texas, where there are lots of these folk musicians, only mostly songwriters. I wandered around for a week looking for the dance tent and the fiddlers. It ended up being an amazing and inspiring experience and I've been for all 18 days every year since.
At the 2003 festival, I won the New Folk competition and got hired on as a performer for the next three years. The Barn Birds is my latest record, an eleven-song duet with Chris Kokesh. Thanks for reading this far and don't be shy. Send me a message or forward my music on to friends, if you like it. "
Spencer Bohren was born into a gospel-singing family in the wind-swept prairies of Wyoming in 1950. He began singing and playing music as youngster. At fourteen, inspired by the folk music he heard on the radio, Spencer picked up a guitar and within a few weeks started performing in public. He immediately delved deeply into America's treasure of blues, country, gospel and folk music, soaking up guitar styles and historical details. In the 1960's and 1970's, Spencer played with rock, country, and blues bands throughout the western U.S. By the mid-1970's, Spencer and his wife, Marilyn, found a spiritual home in the city of New Orleans, and started their family there.
New Orleans had a profound effect on the family, and Spencer quickly became a fixture on the local music scene. He began touring, this time in the South and before long he made the daring decision to bring his family on the road so they could always be together.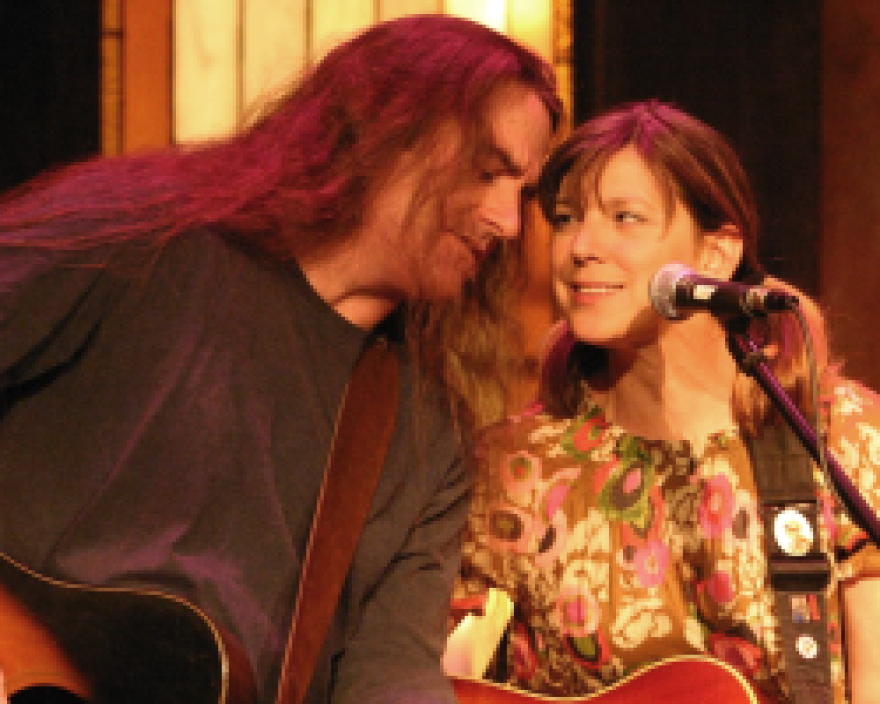 Stacey Earl and Mark Stuart are a husband and-wife musical duo providing audiences with a complete entertainment package. Armed with clever acoustic guitar interplay, autobiographical songwriting, lovely harmonies, and humorous storytelling, this couple captivates your attention from the first moment they are onstage. Based out of Tennessee, Earle and Stuart draw from blues, pop, country, rock, and more in their heartfelt music.
Stacey and Mark own their own record label, Gearle Records, and have made 8 CDs over the years. Since meeting in 1992 (marrying in 1993), the partners have toured the USA, Canada, and Europe. They abandoned the goal of a major label deal in Nashville in 1998, in order to target small intimate-venue crowds in theaters, coffeehouses, festivals, clubs, and house concerts. The road has become their home and they are a recognized fixture on the international folk music trail.
Martha's Trouble soul mates Jen and Rob Slocumb met 15 years ago with a twist of fate inside a Houston, Texas, coffee shop where Jen worked booking bands. Rob was home to see his parents after a music venture fizzled. It started as a simple bond over music but time led them to realize it was something much more. The two fell in love and were married. They continued to write and play music, building up enough of a repertoire to start producing albums and touring around the country and the world. Their work has not gone unnoticed. Some of the most influential and well-respected music critics of our time have paid tribute to the duo. Billboard Magazine: "With its 10th album, 'Anchor Tattoo,' the Alabama-based husband-and-wife duo Martha's Trouble continues to intensify the mystery as to why it remains a hidden gem."
All RadioLive performances take place at the Museum of Commerce, 205 E. Zarragossa Street in Pensacola. The doors open at 5:00 p.m. and the show starts promptly at 6:00 p.m.
Admission is at least one non-perishable food item for the benefit of Manna Food Pantries of NW Florida.
rl120512b.mp3
December 5, 2013 Part 2: Cliff Eberhardt, Wild Poines, Nora Jane Struthers